It's Monday, again, and that means that I've got another media review for you! This one's a classic - well, it is to me - and it represents many a happy evening with my friends. If you like musicals, Shakespeare, and/or awkward teens having silly romantic escapades, this movie is for you!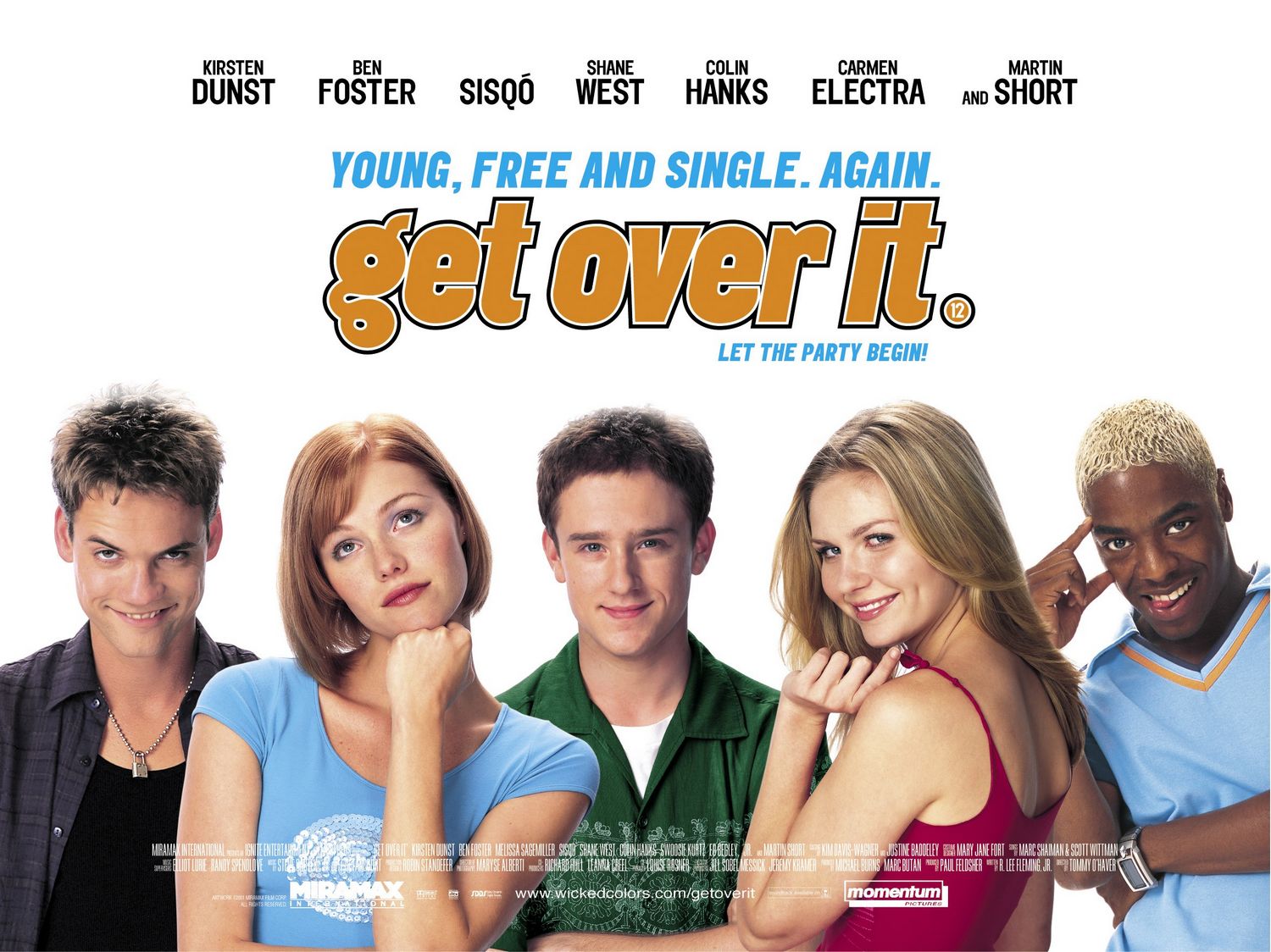 From left: Striker, Allison, Berke, Kelly, and Dennis
2001's Get Over It stars Kirsten Dunst, Ben Foster, and Ed Begley, Jr. It's about a boy named Berke (Foster), who's in love with a girl named Allison (Melissa Sagemiller). Allison falls in love with another boy, Striker (Shane West), who also happens to be the lead singer in a well-known boy band. Berke is heartbroken, and spends about 3/4 of the movie trying to get her back (while ignoring the love that's right in front of him, etc).
In addition to all of the times people gratuitously sing "Alison" by Elvis Costello, the music in this movie is hilariously done. There are some not-as-gratuitous numbers, because Dr. Desmond Forrest Oates, the THEATRE director, (Martin Short, natch) turned A Midsummer Night's Dream into a musical. He's written songs for Diana Ross, it's cool. But there's a scene at the beginning where Vitamin C is leading a parade of people (UPS workers, jogging grannies, a gardener; casual) down the street, singing Captain and Tenille's "Love Will Keep Us Together" because they're following Berke home from his break-up with Allison. There's also, of course, auditions, which might be the best part.
Berke wants to be in the show because Allison will be in the show. But Berke is not a theatre kid, nor is he quick on the spot. Plus, he's a ginger. Draw your own conclusions. However, Berke's best friend's younger sister, Kelly, is a theatre whiz, and she offers to tutor him. Felix, Kelly's big brother, is not very happy with the arrangement, but would do anything to help a friend (except get him out of the harness he was put in by a dominatrix at a sex club). Berke gets cast as one of the king's henchman, but is bumped up to Lysander because the show's star gets injured on set.
Kelly, meanwhile, is an aspiring songstress, and thinks Forrest Oates' songs (especially for Helena, her part) suck. So she pens her own, thinking F O will be permissive, if not entirely thrilled. WRONG, he's furious. And also miffed that she would use quotes from the original Shakespeare because hell-ooo, so boring! So Felix, being a good brother, slips the sheet music to the orchestra on opening night. Martin Short and his assistant, Jessie (Jeanie Calleja), make good use of their walkie-talkies during that scene - "Jessica. JESSICA!"
I mean, what is there to say about this movie? Berke's parents have a sex talk show. Felix and Kelly Woods ostensibly have no parents, but they do have their aunt's dog who likes to hump their rubber tree. Dennis "Crazy Legs" Wallace (Sisqo) loves playing basketball, but also loves to dance (High School Musical totally lifted that plot point, I swear). There's a Kiwi model named Dora Lynn who sets a sushi restaurant on fire.
Oh, and Mila Kunis in a bikini. You're welcome.
~*s&w*~